Page 27 of 27 •
1 ... 15 ... 25, 26, 27

selflessly gave the best years of his career to CR7..what a man, happy to see him thriving in a post CR7 world

Firenze

the Bloody-Nine




Posts

: 26773


Join date

: 2012-04-25



@Firenze

wrote:selflessly gave the best years of his career to CR7..what a man, happy to see him thriving in a post CR7 world
Man... that's sad.

Mamad

First Team





Club Supported

:


Posts

: 2932


Join date

: 2011-06-05



Uff what a performance what a start to the season.

halamadrid2

World Class Contributor





Club Supported

:


Posts

: 19639


Join date

: 2011-06-05



I liked his first goal but his second goal is my favorite. For the first time ever, he made me feel he was ruthless and looking to score no matter what.

It's absolutely crucial that he builds on tonight's performance and doesn't allow himself to fall back to his old self. I would hate it to see him plunge into mediocrity after giving me a ray of hope.
_________________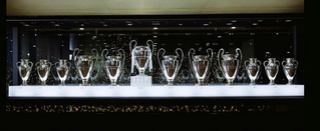 •Proud fan of the biggest and most prestigious club in the world•

The Demon of Carthage

First Team





Club Supported

:


Posts

: 3435


Join date

: 2015-01-25



If Ramos gave him the penalties he could have 7 goals by now. 7 in only 4 official game this season.

but the thing is, unlike some selfish brats he doesn't care THAT much about numbers. and i love it.
Last edited by Mamad on Sun Sep 02, 2018 12:02 pm; edited 1 time in total

Mamad

First Team





Club Supported

:


Posts

: 2932


Join date

: 2011-06-05



@chad4401

wrote:Yawn I'm easily the biggest Benz fan on this forum, I don't need to praise everything he does cause we all know that won't change the narrative about him, so lets wait and see if he truly sucks or cr was just hogging all the chances.

Isco is very useless and is prime example narrative driven fandom, been meh all preseason and these last 2 league games, nobody particularly cares, if that Benz at least 3 threads taking digs at him, like all those panic threads and posts which more about bashing him than getting actual cr replacement

, its boring tbh.
i was in his corner long before you. and you cant even fathom Benz Prime which was lost years ago. Benz is still a great player but he is not the same man he was years ago.
two more goals, The Champions League competition should be very concerned that Monsieur CL himself isn't slowing down yet. hes getting more consistent.
it is the CL where Benzema is at his strongest. i wonder with the responsibility being shared, can Benzema get topscorer in CL this year? He just might if he can maintain this run of form. the only times ive given benz 10/10 is in cl games after all. one example of those 10/10 performances was when he scored the perfect hattrick (1 goal from both feet and head). a forward can easily get a 10/10 from me if one can score the perfect hattrick. The only other one who ive seen done this that i can remember is van nistelrooy. to score the perfect hattrick is the most difficult challenge a forward can attempt to do after all.
Last edited by Turok_TTZ on Sun Sep 02, 2018 7:06 am; edited 1 time in total (Reason for editing : why was quoted text quoted twice?)
_________________
we are all chad
_________________

terrance511

First Team





Posts

: 1174


Join date

: 2012-08-16



Creativity of the thread title


Kebab

Starlet





Posts

: 605


Join date

: 2016-02-06



Page 27 of 27 •
1 ... 15 ... 25, 26, 27
---
Permissions in this forum:
You
cannot
reply to topics in this forum