Hey guys. This will be a long post from my story tonight, so thought I'd make a separate thread. Sharing some good stories they said and what went down. These 3 were in Toronto today and I went to the event.
Me and my mates were quite early, so we went to meet and greet. I was so angry at Robbie during meet and greet. He looked so bored and faking a smile....Hamann was by far the nicest, asking how you are, and making genuine contacts. So after 1.30 hours of people having their shirts/stuff signed and taking photos, the show started. I'll cut to the chase and share the coolest stories.
- Jason McAteer and Fowler saying they were both born in shitholes. Fowler said he was a teen, just having signed his first contract by Liverpool. he needed a ride home, and Kenny was the one who offered to drive him home. So overjoyed, but at the same time nervous (Cuz Fowler's home was in a total awful neighbourhood), he'd ask Kenny to drop him off 1 mile away, so he wouldn't get embarrassed. He's like Why The Hell is Kenny Dalglish driving me home, anyways...is this real life ?
- Hamann properly got to footy at 16 and went to 1998 world cup. He played for Bayern and said after seeing all those German world cup winners and training with likes of Kopke, Kahn, Hessler, Bierhoff, Klinsmann, Muller, etc for 6-8 weeks during 1998 world cup, I decided to move abroad to differentiate myself, and got an offer from Newcastle. He's like ,4 weeks later, I was training with [Insert scrub English NUFC players]. what an awful decision. A year later, he said Houllier called me to see me ,and I immediately agreed a deal. After it was agreed, Houllier told me, his business for today wasn't done and there is more to be done. Herman so excited to see who else Liverpool are signing asks, so what's next ? Houllier responds: "I just sold McAteer to Sunderland for 4 M "

- McAteer on Ireland-Norway game in WC 1994. Last group stage game, Ireland need a draw. Just before the game, as the Norwegian anthem is playing, McAteer (Standing between Aldrige and Roy Keane), says, the captain leaned on shoulder of keeper and delivered a message. Keeper delivered to person next to them, and it was being passed on. Usually, it's a las minute intrustction like "Don't do anything stupid" "Keep it tight", He's like I was so nervous. It got to Aldridge and he was supposed to pass the message to me. He leaned over my shoulder and said: "Trigger (McAteer's nickname", Row F, see the Blonde with massive tits"


. He said i looked up, and looked next to me and it's Roy Keane. I leaned over Keane's shoulder, paused, and said: "Just keep it tight and don't give the ball away"
- Hamann described HT Istanbul story, how Rafa was so chill and Hamann was gonna come on for Traore. and the Finnan is like I have a cramp. Rafa is like, how many more minutes can you play? Finnan responds: "20 minutes". Rafa is like, so you can't make it to extra time ? GET DJIMI OUTTA SHOWER AND TEL LHIM TO PUT HIS SHIRT BACK ON. Didi, you're gonna go in for Finnan instead. Rafa, at 3-0 down, planning for extra time

- Hamann said after full time, we went back to the hotel and I had forgotten my cigarette pack .I so wanted a *bleep*, and then David Moores (Owner) walked in crying and hugging me....I used to smoke with him. I didn't know any other smokers in the team back then (Maybe they were secretive), so I ask David: "David, you got a *bleep* to share?". He's like yeah...but I'm not sure if it's a good idea now. Didi asks: "Why?". Moores responds: "What if Rafa walks in?". Didi says: "You're the effing owner, sack him"

- Fowler about an experience in Thailand when he was player-manager. Said he was getting massages every day, one night when into this club. This girl looks stunning. Robbie was getting hard, and he's like I was at the stage where you rub your legs together to hide it and wanted to go to talk to her...just praying PLEASE PLEASE PLEASE be a girl....then, In noticed she slightly getting a boner too. dreams shattered

The show was 3 parts
1- All 3 talking about how they started their career, a lot of cursing and sex/drugs jokes, very fun part and how they got into Liverpool etc
2- Auction for signed jerseys....Gerrard signed jersey was auctioned for $4000. God #9 for $3000. Dalgliesh signed for #2500, and even Messi and Maradona signed jerseys each went for $2000.
Last there was a raffle for winners of a match-tickets to Anfield, and a signed Gerrard jersey. Some teenager who looked like David Luiz won the Gerrard jersey, and a really really fit blonde girl in her early 20s won 2 match tickets to Anfield for next season. When she came to pick up her prize, McAteer is like: "You can come and stay at my place in Liverpool when you're there

"
Robbie and McAteer definitely picked up during the show. I was really annoyed with them at meet n greet. o , and great cleavage moment at meet and greet as well. Photos in the next post.

DeletedUser#1

Fan Favorite





Club Supported

:


Posts

: 5155


Join date

: 2012-12-06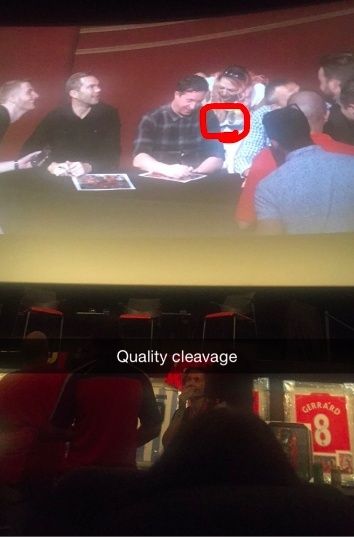 Sorry, I have a lot of videos, but can't upload here sadly. I laughed so much, I was about to piss myself

DeletedUser#1

Fan Favorite





Club Supported

:


Posts

: 5155


Join date

: 2012-12-06




iftikhar

Fan Favorite





Club Supported

:


Posts

: 8439


Join date

: 2011-06-06


Age

: 47



---
Permissions in this forum:
You
cannot
reply to topics in this forum