So Ronaldo said if the other players were at his level, we will be top of the Liga table; he even mentioned names! I really cant see anything new in his comment. When i read the comment, i said to myself "finally, he let it out"
He says this everyday with his on-field antics,goal celebration and general body language. This is the reason a large portion of the 'TRUE' real madrid fans (not ronaldo fans) will never rate him above other legends; he lacks the humility of a true madrid Legends. No matter what the statistics say, he will never be rated in the top 5 madrid players of all time by true Madridistas.

We are a team filled with square pegs in round holes, pseudo-world class players and big egos. This team needs a restructuring right from the top the the bottom.(except Zidane)
Ronaldo's comment is either going to break this team in the short-run or strengthen their mentality right away.

The three possible effects of his comments are:
1 - The players will feel humiliated and demoralized; performances will drop and players will request to leave the team. They will never feel comfortable playing with a player who looks at them as shit! The president will finally realize he cant continue to be Ronaldo's puppet and sell him rather than selling the whole team.

2 - The players will see his comment as a reason to improve their performances in an attempt to prove him wrong rather than satisfy his personal sporting ambitions.

3 - The most unlikely and impossible outcome is that the president will yield to Ronaldo's request and sell every player on the team.(lol) you never can tell though, it's Perez!

Whatever happens, i believe this team will eventually get stronger come next season.
His comments encapsulated everything we have always felt about the Florentino era - the team was built around a wrong philosophy and Ronaldo is a symbol of that philosophy.

shadexticos

Hot Prospect





Posts

: 454


Join date

: 2013-07-14



Until next big game everything will be alright and it will look like his words benefited the team. Expecting him to score some hat tricks against levante and celta
_________________

Kebab

Cant go to the last pages in mobile version. There is no page numbers




Posts

: 726


Join date

: 2016-02-06



Cristiano needs to leave, he's the one that's underperforming, he thinks that stats are everything, of course he's the top scorer of the team, he demands all the balls to be given to him no matter if the other player is in better position.

Claudio84

Hot Prospect





Posts

: 208


Join date

: 2015-08-27



Why have you disable comment s in Ronaldo is overrated thread . I think right now everybody agrees how overrated he is .
_________________
" />

sree999

Hot Prospect





Posts

: 284


Join date

: 2012-06-23



Somebody please unable the comments in the aforementioned thread so that this guy, who stopped by just to voice his frustration on the matter, can have a place to decompress.
_________________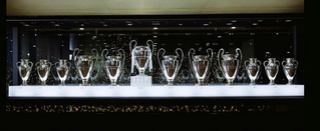 •Proud fan of the biggest and most prestigious club in the world•

The Demon of Carthage

First Team





Club Supported

:


Posts

: 4469


Join date

: 2015-01-25



Such great foresight, kudos to the poster who saw the defeat and comment as the turning point.lol

shadexticos

Hot Prospect





Posts

: 454


Join date

: 2013-07-14



Similar topics
---
Permissions in this forum:
You
cannot
reply to topics in this forum