Page 25 of 25 •
1 ... 14 ... 23, 24, 25

Messi just won practically his 5th (record) Golden Boot.

34 Messi (1 game left)
32 Salah
30 Kane
29 Lewandowski
29 Immobile
28 Cavani (1)
28 Icardi (1)
25 C.Ronaldo (1)
33 Jonas (1, 1.5x)
24 Suarez (2)

Harmonica

World Class Contributor





Posts

: 10906


Join date

: 2011-06-07



outperforming every forward in the world with a midfielder's heatmap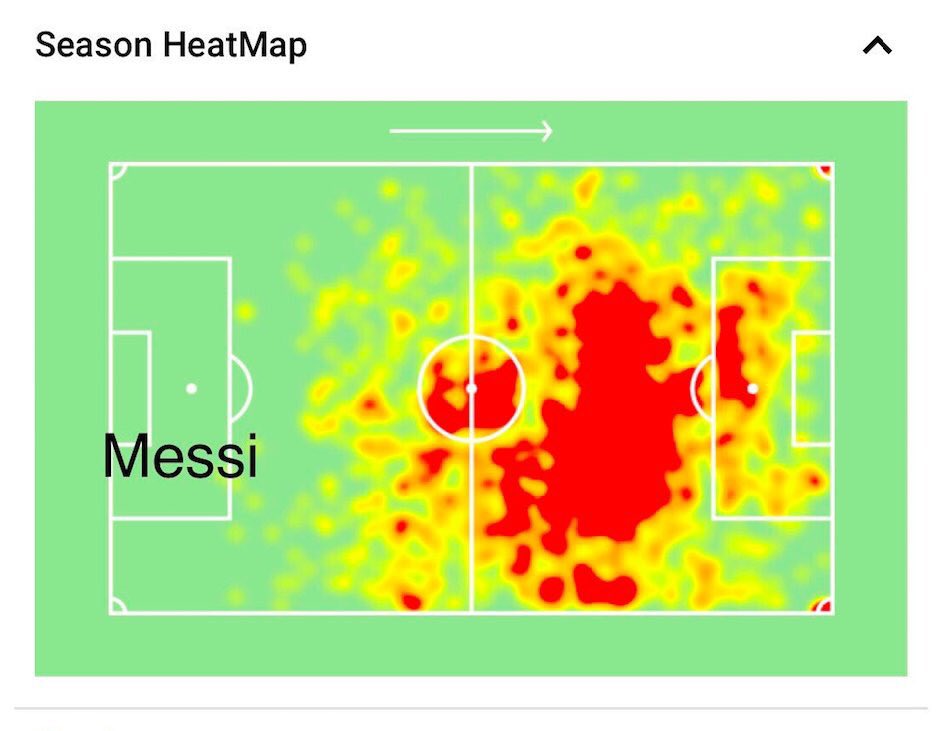 Myesyats

Fan Favorite





Club Supported

:


Posts

: 7673


Join date

: 2015-05-03



Translation:
Spoiler:

- Lionel Messi: "A good World Cup for us will mean reaching the semi finals at the very least." [tyc]

- Messi: "No one wants to win more than us. We've lost 3 finals and we want to get rid of that burden." [tyc]

- Messi: "I realised that retiring in 2016 was wrong. It sends a wrong message to everyone who fights for their dreams. You must never give up no matter what." [tyc]

- Messi: "I don't want to be the best in history. I just want to win with my teammates. I want to play with and for my compatriots." [tyc]

- Messi: "It would be terrible to see Neymar at Real Madrid. He meant a lot to us. It'll be a big blow to the fans." [tyc]

- Messi: "The 6-1 against Spain is a false result. We were very good in the first half. We had possession and created many chances." [tyc]

- Messi: "Everything Sampaoli does is intense. He demands the maximum from us. He puts 100% into everything he does." [tyc]

- Messi: "We are not obligated to anyone for anything." [tyc]

- Messi: "Playing with Aguero at Manchester City? No." [tyc via sport]

- Messi: "Real Madrid's recent Champions League success? They get it done, sometimes by playing badly. For us, we have to always be superior to our rivals to win." [tyc]

- Messi: "Iniesta's departure? We practically started together. It was great to have lived through so many great moments with him." [tyc]

- Messi: "I don't have to move to another team to prove anything to anyone. It's very difficult for me to leave Barcelona." [tyc]

- Messi: "I don't like to watch myself play. I don't rewatch the games on television. But yes, I have changed as a player and person over the years and I have incorporated some new things to my game." [tyc]

- Messi: "Every player has pressure. You just have to find ways to lessen it and do things to make yourself feel better." [tyc]

- Messi: "I have a strong friendship with Suarez. On the pitch, he makes life easier. His movement is great, he runs, he presses. Sometimes he runs one way but then goes another way. It makes it easier for me to play my game as well." [tyc]

- Messi: "Barcelona and Argentina are my two great loves." [tyc]

- Messi: "I don't know what I'll do when I retire. I'll have to discover it over time. I just enjoy my life and what God has given me." [tyc]

- Messi: "Only in Argentina will you get abused for reaching three finals in a row. They called us 'cold chested' and 'shit'." [tyc]

- Messi: "My chance in the World Cup final? I would've hit it better from the inside of my foot. I want to go back and revisit that situation." [tyc]

- Messi: "We have to play really well to win the World Cup. Truth is that it's harder now. Any team can be organised and get a 1-0 victory against you these days." [tyc]

- Messi: "God will decide if we will win World Cup or not. But we will try our level best and leave everything on the pitch. What has to happen will happen." [tyc]

- Messi: "I wish we were like Germany." [tyc]

- Messi: "The elimination against Roma was shit. We had one foot in the semi finals. We had a massive advantage. It was a big disappointment." [tyc via sport]

_________________
- Come with me. Save yourself. You don't owe Argentine people any more. You've given them everything.
- Not everything. Not yet.

Harmonica

World Class Contributor





Club Supported

:


Posts

: 10906


Join date

: 2011-06-07



Page 25 of 25 •
1 ... 14 ... 23, 24, 25
---
Permissions in this forum:
You
cannot
reply to topics in this forum