What a useles freaking record, one trophy that we are eliminated from lol,on a season we were supposed to be unbeatable? Lol

I never want to hear about that stupid record again

_________________
Madridista naci.. Vikingo sere y Merengue Moriré

Mr Nick09

Ballon d'Or Contender





Club Supported

:


Posts

: 29848


Join date

: 2011-06-05



Records without trophies are useless. I said this a million times already.

The thing is, we have always played this bad under Z (with the exception of a few scattered games where we played really, really well e.g. the Sevilla first leg cup game). But the difference now is that we don't have those '90+ min goal to bail us out.

Some of us, including you Nick, knew that playing and winning like this is a problem. And sooner or later, luck will run out.

What Z needs to do now is make amends by benching Benzema (forever) and moving Ronaldo to CF permanently. The Portuguese is finished and is a waste of skin on the wings. But since he's unbenchable, at least move him where his laziness would hurt us the least.

Start Kova, Don't start Asensio (under any circumstances) and take Danilo to the back and shoot him.

Once everybody gets healthy, give Bale, Modric, Carvajal and Pepe their spots back. Rotate with Isco and James.


_________________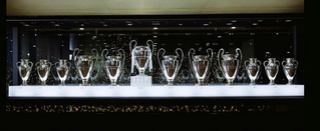 •Proud fan of the biggest and most prestigious club in the world•

The Demon of Carthage

First Team





Club Supported

:


Posts

: 4318


Join date

: 2015-01-25



Let's conveniently forget that we 3/4 of our starting back 4 and Pepe are injured, Modric is injured, Bale is injured, etc.
_________________

sportsczy

World Class Contributor





Club Supported

:


Posts

: 18024


Join date

: 2011-12-07



Im sorry but even with those injuries, we should have beaten celta. They outplayed us twice in a week lol, kudos to their coach.

bale injured? we still have Benzema and CR who are world class

modric out? ok Kroos and Casemiro still around, Isco etc..

Pepe out? Varane, Ramos etc...

Talent and quality personel is clearly not something we lack of.

_________________
Madridista naci.. Vikingo sere y Merengue Moriré

Mr Nick09

Ballon d'Or Contender





Club Supported

:


Posts

: 29848


Join date

: 2011-06-05



Celta are clearly not a better team, but they were definitely a difficult team to play against. They parked the bus for almost all of the 180 minutes and took advantage of our makeshift defense.

Meanwhile our attack looked like they couldn't be fussed.

And that is the biggest problem IMO. Benzema and Ronaldo look like shadows of their ability, and the supporting attackers Morata, Asensio, and Vazquez caused problems at times but never looked comfortable for any consistent periods throughout the 2 legs.

vanDEEZ

Fan Favorite





Club Supported

:


Posts

: 5813


Join date

: 2011-06-05



---
Permissions in this forum:
You
cannot
reply to topics in this forum